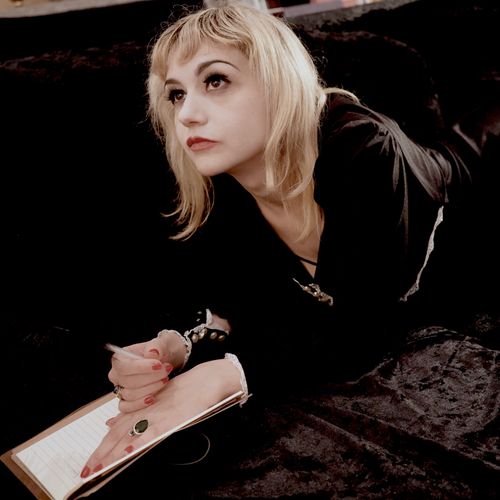 Comments about the new record include: 
VV & the Void keeps getting better! An immersive sound with engulfing and deep soundstage. Layered without clear leads but not mushy either. Atmospheric and driving at the same time. Draws me in and every listen finds something new in the tracks. Great throughout. Just hope for some releases on vinyl! Favorite track: Cast in Stone. " 
"Mesmerizing, enchanting, hypnotizing" 
"A dark, enthralling masterpiece" 
"Mesmerizing and divine" 
"A deep dive into Twin Peaks and David Lynch vibes". 
Valentina Veil started VV & The Void in Melbourne, Australia and quickly 
gained the attention of followers, music writers, and producers in the 
international and underground music scenes of Australia, USA, UK and 
Europe. 
VV & the Void signed with the label Cleopatra Records in 2018 and released 
through the Los Angeles based label their first full-length album titled, "The 
Upper Room" on May 25th 2018. 
Valentina Veil has written, recorded, and produced the album that was mixed 
by Lindsay Gravina (HTRK, The Birthday Party, Rowland S. Howard, 
Swervedriver) at Birdland Studios, in Melbourne, Australia. 
Often described as ethereal, gothic, minimal-drone, noir, and dark wave, VV & 
the Void's music is the singular celebration of earthly and lucid dichotomy of 
grace and disproportion, the feminine and the masculine, the moon and the 
sun, birth and death, and the war of consciousness from the perspective of 
unconsciousness. 
The band toured extensively Europe and was invited by Chameleons Vox to 
join the UK leg of their tour 2018. 
Valentina Veil is also a regular collaborator of the Los Angeles/Berlin post 
punk band Night Nail on their "LA Demons" and "March to Autumn" on vocals, 
synth and guitar. 
VV & The Void has released the single "Replicant" followed by the launch of 
her second full length album on Dec 17th 2021 through Cleopatra Records. 
The album has been mixed by John Fryer (Cocteau Twins, This Mortal Coil, 
Nine Inch Nails, Depeche Mode) and mastered by Pete Burns (Kill Shelter).