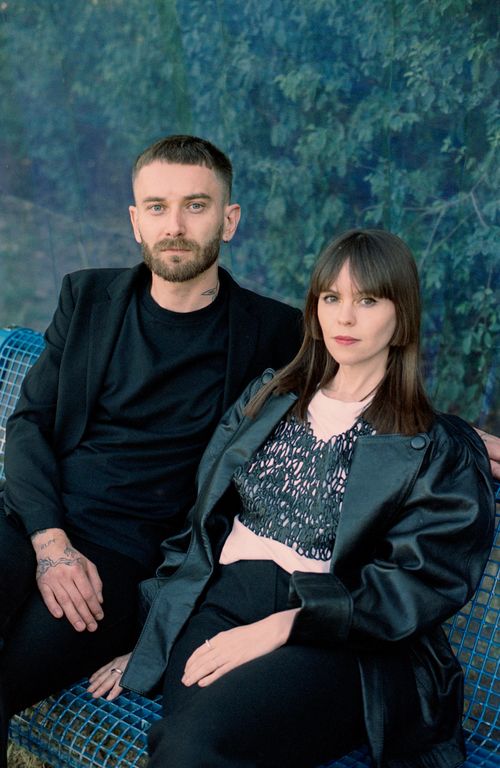 SUIR is a duo based in Cologne, which started in 2017 when Denis Wanic (guitar and vocals) and Lucia Seiß (guitar, synths, and bass) joined forces for their band project. 
In a constant interplay between the guitars, supported by energetic drum rhythms and melancholic lyrics, SUIR produces reverberated shoegaze and cinematic, atmospheric music defined by dense and complex sound walls. This rich, velvety sound constantly shifts between post punk, dark shoegaze, heavy dark wave, and psych, but due to their own sound creations, none of these genres can be unambiguously attributed. The music combines heavily influences by contemporary bands like Bleib Modern, The Underground Youth, The KVB, The Brian Jonestown Massacre or shoegaze pioneers like My Bloody Valentine and The Jesus and Mary Chain. 
Their live performance is expanded by a visual program which is strongly influenced by the origin of the two from the fields of art history and philosophy and builds a filigree and gloomy overall concept. SUIR has toured from eastern to western Europe, performing as main or support acts for artists like Motorama, Lebanon Hanover, Esben and the Witch, The Underground Youth and The KVB, and appeared at major festivals that include Wave-Gotik-Treffen (WGT), NCN-Festival and Owls ´n´ Bats Festival. 
The duo released two full albums, "Ater" and "Soma" with Black Verb Records and Manic Depression Records (Vinyl, CD, Tape). 2021 they created "Studio Session", a live session recording in SUIR's discography, which was released April 1st by Wave Tension Records (Vinyl, CD, Tape). Their third album "Not all of your pain is self chosen" is released via This Charming Man Records, October 14th 2022.